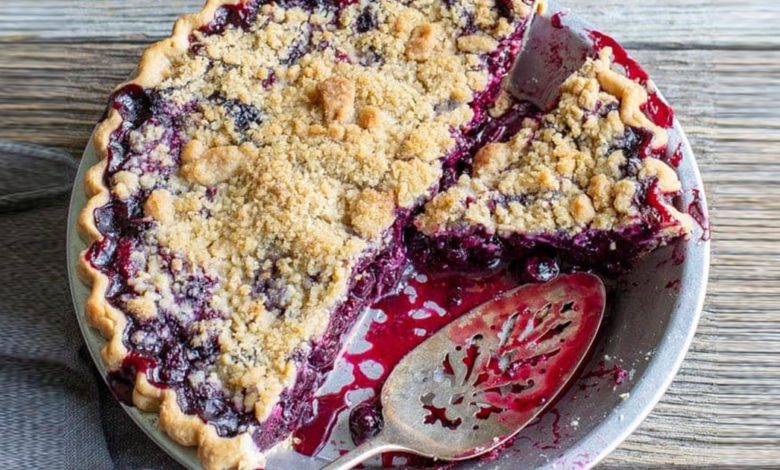 Ingredients:
---
1 unbaked 9-inch deep dish pie crust, well chilled before filling
For the blueberry filling:
---
2/3 cup granulated sugar
2 1/2 tablespoons cornstarch
1 teaspoon lemon zest, about 1 lemon
2 tablespoons fresh lemon juice
5 cups fresh blueberries, rinsed and dried
1/2 of a small apple, peeled and cored, then grated
For the crumble topping:
---
2/3 cup unbleached all-purpose flour
1/3 cup light brown sugar
1/3 cup cold butter cut into chunks
1 tablespoon granulated sugar
---
---
Instructions:
---
1Preheat the oven to 375 degrees. Line a baking sheet with foil and place in the oven to preheat as well. Remove the unbaked, prepared 9-inch deep dish pie crust from the refrigerator. Line the pie crust / pie plate with parchment paper and add pie weights or dried beans. Bake the crust for about 20 minutes.
---
2Remove the parchment paper and pie weights or beans and set aside. Return the crust to the oven and bake another 10 minutes or until it starts to brown lightly.
---
3Remove from the oven and set aside to cool while preparing the filling.
---
To prepare the filling:
---
1Whisk together the sugar, cornstarch and lemon zest. Place the clean, dry blueberries in a large mixing bowl. Add the grated apple, lemon juice and sugar/cornstarch mixture. Gently toss the blueberries to combine or use a rubber spatula and gently turn to coat. Set aside until the berries start to release their juices – 20-30 minutes, while preparing the topping.
---
To prepare the topping:
---
1In the bowl of the food processor, combine the flour, brown sugar, butter and granulated sugar. Pulse until combined. Remove to a small mixing bowl and using the back of a large spoon, press some of the topping together to form large chunks. Refrigerate until ready to use.
---
2To assemble the pie, pour the blueberry mixture into the blind baked pie crust. Top with the crumble mixture spreading evenly.
---
3Bake on the foil lined baking sheet at 375 degrees for 1 hour. After 30 minutes, cover the pie with foil if starts to brown too quickly.
---
4Once the filling bubbles and the pie is golden brown, remove from the oven and allow to cool to room temperature.
---
5Store leftovers in the refrigerator.
---