Recipes
💛 Butter Pecan Cheesecake Recipe 😍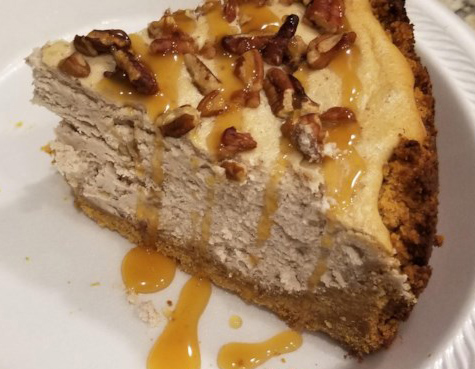 Ingredients:
---
Crust:
---
1 1/2 cups graham cracker crumbs
1/2 cup chopped pecans
1/3 cup butter, melted
1/3 cup white sugar
Cake:
---
3 (8 ounce) packages cream cheese, softened
1/2 cup white sugar
3 eggs
2 cups sour cream
1 teaspoon vanilla extract
1 cup chopped pecans
---
---
Instructions:
---
1Preheat oven to 475 degrees F (245 degrees C).
---
2Combine graham cracker crumbs, 1/2 cup pecans, butter, and 1/3 cup white sugar in a food processor; pulse until evenly combined. Press mixture in the bottom and partly up the sides of a 9-inch springform pan.
---
3Beat cream cheese and 1/2 cup white sugar together in a bowl using an electric mixer until smooth and creamy. Add eggs, 1 at a time, beating well after each addition. Add sour cream and vanilla extract and mix well; fold in 1 cup pecans. Pour cream cheese mixture over crust.
---
4Bake in the preheated oven for 10 minutes. Reduce oven to 300 degrees F (150 degrees C) and continue baking for 50 minutes more. Turn off oven, open door slightly, and let cake sit in oven for 1 hour.
---