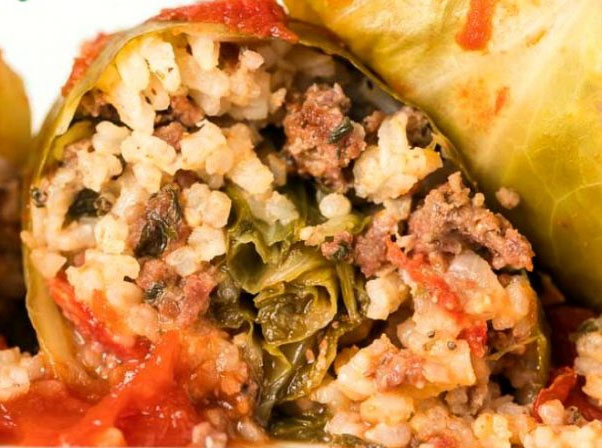 Ingredients:
---
For the sauce:
---
1 can diced tomatoes 14.5 ounce, undrained
One 8 ounce can tomato sauce
2 tablespoons brown sugar
1 tablespoon white vinegar
¼ cup water
For the Filling:
---
1 pound ground beef
½ cup onion chopped fine
1 tablespoon dried parsley
1 teaspoon oregano
1 teaspoon salt
½ teaspoon pepper
½ teaspoon dill
2 teaspoons minced garlic
1 cup cooked rice
1 egg
¼ cup of the sauce that has been mixed together
1 head green cabbage
---
---
Instructions:
---
1Prepare the cabbage leaves by cutting off ¼ inch from the bottom of the cabbage head. Place the whole cabbage head into a big pot of boiling water and boil for two minutes. Using long tongs gently peel off the outer cabbage leaves from the cabbage head inside the pot. Using the tongs you can roll the cabbage head around in the hot water and gently lift the leaves. After several layers have been removed you may have to use a knife to disconnect the leaf next to the core. Set aside the removed leaves to cool while you prepare the sauce and filling.
---
2Preheat oven to 350 degrees.
---
3In a medium bowl mix all of the sauce ingredients together.
---
4Spread a thin layer of the sauce in the bottom of 9×13 baking dish.
---
5Remove ¼ cup of sauce to be added to the meat filling.
---
6In a skillet brown the ground beef cooking along with the onions, parsley, oregano, salt, pepper and dill over medium heat until no pink remains and onions are tender.
---
7Stir in the garlic and cook another minute.
---
8Remove from heat and add the cooked rice, ¼ cup mixed tomato sauce and egg. Mix well. Set aside.
---
9Remove the thick stem of the cabbage leaves (cutting a V at the bottom of each leaf to notch out the thick part and this also helps it lay flatter)
---
10Lay the leaf flat and place 1/3 cup of filling toward the middle bottom of the leaf. Fold burrito style by folding in the sides onto the filling and rolling the leaf up. If your leaves have torn that's okay, just fold the torn side in first and cover it up with the other side before rolling.
---
11Place the roll seam side down in the prepared baking dish. Repeat the process until all the leaves are filled and dish is filled.
---
12Pour the remaining sauce over the rolls and cover tightly with foil. Bake for 1 hour and 30 minutes.
---
13Let cabbage rolls sit for 10-15 minutes before serving.
---