Recipes
🍓Creamy Small Batch Cheesecake😋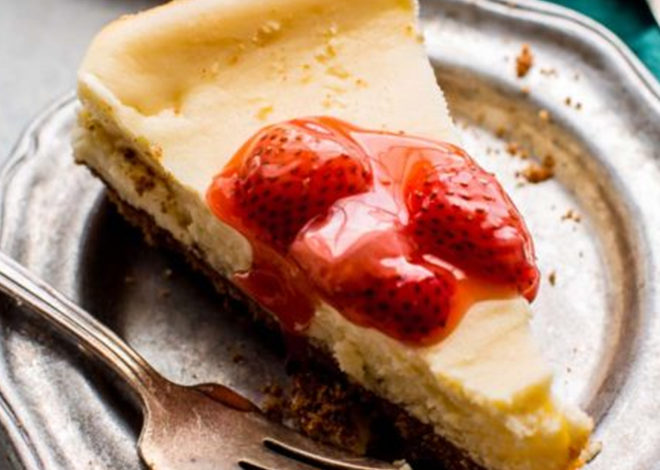 Ingredients:
---
For The Crust:
---
1 and 1/3 cups (130g) graham cracker crumbs (about 8 graham cracker sheets)
3 Tablespoons (45g) unsalted butter, melted
1 Tablespoon (12g) granulated sugar
For The Cheesecake:
---
two 8-ounce blocks (450g) full fat cream cheese, softened to room temperature
1/2 cup (100g) granulated sugar
1 large egg, at room temperature
1 teaspoon pure vanilla extract
1 teaspoon fresh lemon juice
optional for serving: strawberry sauce topping, cherry topping, or even salted caramel!
---
---
Instructions:
---
1Lower the oven rack to the lower third position and preheat oven to 325°F (163°C). Line a 9×5 inch loaf pan with parchment paper with enough overhang on the sides to easily remove the cheesecake from the pan. Set aside.
---
2Mix all of the crust ingredients together. Pour into prepared loaf pan and press down the crust so it is super tight and firm in the pan. Use a flat spatula to compact it down. Bake the crust for 22-24 minutes or until lightly golden brown on the edges and top.
---
3While the crust is pre-baking, prepare the filling. In a large bowl using a hand mixer or a stand mixer fitted with a paddle attachment, beat the cream cheese on high speed until completely smooth. Beat in the sugar, egg, vanilla, and lemon juice until completely combined and smooth, about 2 minutes. Scrape down the sides and up the bottom of the bowl and beat again as needed.
---
4Pour the batter on top of the warm crust and smooth into an even layer. It will look like a lot of cheesecake batter, but it will sink down as it bakes.
---
5Bake the cheesecake for 40-45 minutes, until the entire surface is set. A toothpick inserted into the center of the cheesecake should come out *mostly* clean.
---
6Remove from the oven and allow to cool completely in the pan set on a wire rack. Once cool, refrigerate the cheesecake for 4 hours and up to 1 day.
---
7Remove the chilled cheesecake from the pan using the overhang on the sides. Slice and serve with optional toppings, if desired.
---
Notes:
---
Make Ahead Instructions: Make this cheesecake ahead of time and let it sit in the refrigerator for up to 1 whole day in step 6. You can also make the filling and pre-bake the crust ahead of time. Cover and refrigerate both for up to 1 day before continuing with step 4. Cheesecake can be frozen up to 3 months. Thaw overnight in the refrigerator.
---