Ingredients:
---
1 box graham cracker
2 box vanilla pudding (large, 5.1 oz each)
1 box chocolate pudding (small, 3.9 oz)
1 jar(s) peanut butter
1 pkg softened Cool Whip (8 oz)
---
---
Instructions:
---
1Go ahead and prepare puddings according to package instructions. Prepare vanilla pudding and set aside.
---
2Prepare the chocolate pudding.
---
3Next, spread peanut butter on graham crackers. Place the first layer of graham cracker/peanut butter on the bottom of 9×13 pan (peanut butter side up).
---
4Then spread 1/3 of the vanilla pudding on top of that.
---
5Then spread a layer of Cool Whip (works best if soft) on top of vanilla pudding.
---
6Continue layering in order as above.
---
7Layer until there's just enough room to spread chocolate pudding on top as a finish (use chocolate pudding to top the dessert only).
---
8Crush remaining graham crackers. Sprinkle them over the chocolate pudding for garnish.
---
9Refrigerate 1-2 hrs or until graham crackers are soft.
---
10You can use any flavor graham cracker you wish and honestly whatever flavor pudding you wish. I have used cinnamon crackers with cream cheese pudding and it was great. Whatever you prefer.
---
11You can also make your puddings from scratch with this recipe if it's what you prefer. But that requires more effort and time so this is the quick version.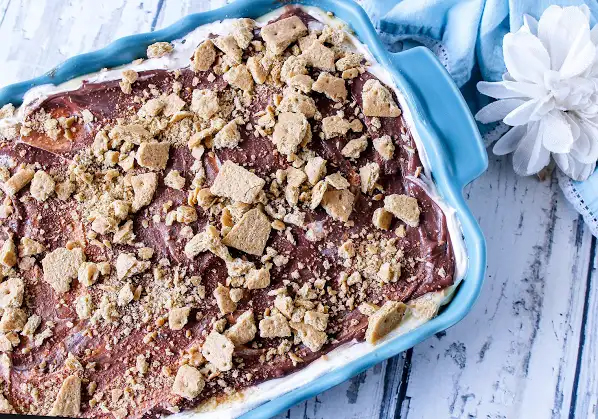 ---