Recipes
🍪Mint Chocolate Milano Cookies😊
Ingredients:
---
2 ½ cups all-purpose flour
1 teaspoon kosher salt
1 cup unsalted butter, softened, 2 sticks
1 ⅓ cups granulated sugar
2 large whole eggs
1 egg white
2 teaspoons vanilla extract
8 ounces chocolate chips, bittersweet
1/2 teaspoon peppermint extract
zest of one orange, (optional)
---
---
Instructions:
---
1Preheat oven to 325° F. Line two baking sheets with parchment paper.
---
2Combine flour and salt together in a medium-sized bowl and set aside.
---
3In the bowl of a stand mixer on medium speed, cream together butter and sugar about 30 seconds.
---
4Add in whole eggs, egg white, and vanilla. Continue to mix on high until light and fluffy, about 1 minute, scraping sides of the bowl as needed. Lower speed and gradually beat in flour mixture until just incorporated.
---
5Transfer batter to a pastry bag or resealable bag with a ¾-inch hole snipped in one corner. Pipe batter into 2-inch long strips, ¾-inch wide.
---
6Bake for 13–15 minutes, or until the edges of the cookies just begin to brown. Remove from the oven and let it cool on the baking sheet for 5 minutes, then transfer to a cooling rack. Allow cookies to cool completely. Arrange cookie halves in pairs of similar shape and size.
---
7Melt chocolate in a double boiler until smooth, stir in peppermint extract. Remove from heat and let cool for 10 minutes.
---
8Spoon ½ to 1 teaspoon chocolate onto one cookie half and sprinkle with a pinch of orange zest. Repeat with half of the other cookies.
---
9Place cookies on a baking sheet and allow to cool for 10 minutes. Gently press the other half on top until the chocolate just reaches the edges.
---
10Let the sandwiches sit until the chocolate has set, you can refrigerate them to set the cookies quicker if needed.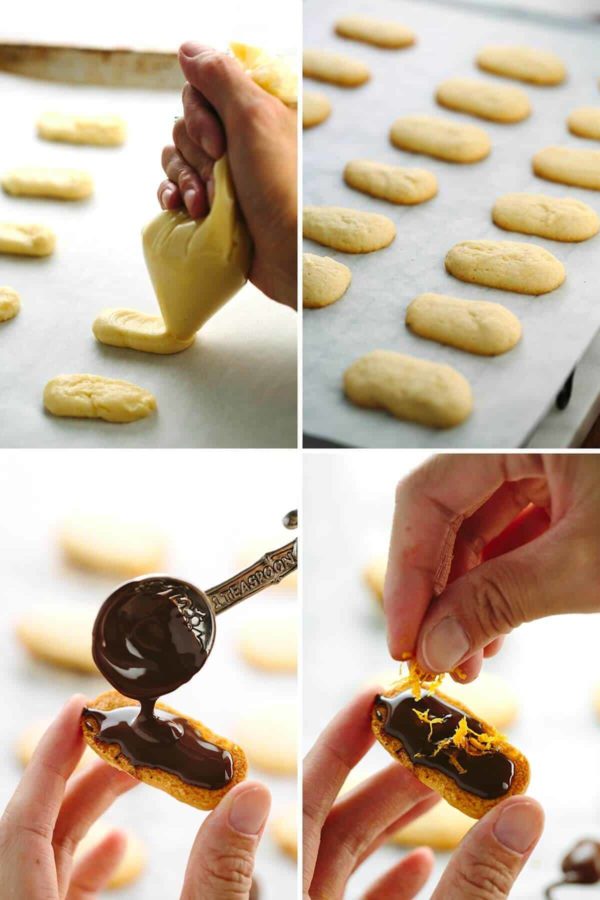 ---