Recipes
👏Pumpkin Cheesecake Banana Bread🎃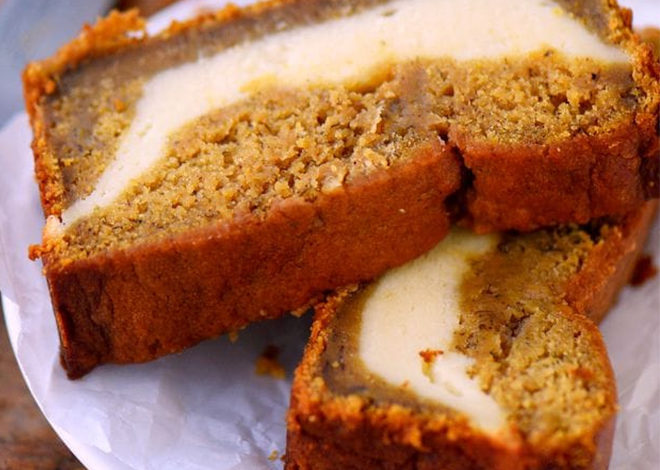 Ingredients:
---
Pumpkin Banana Bread:
---
2 ripe bananas
1/2 cup brown sugar
1/2 cup granulated sugar
1 cup pure pumpkin puree not pumpkin pie filling
1 egg room temperature
6 tbsp butter softened
1 tsp vanilla extract
1½ cup all purpose flour
1 tsp pumpkin pie spice
1½ tsp baking powder
½ tsp baking soda
Cheesecake Filling:
---
6 oz cream cheese softened
1/3 cup granulated sugar
1 egg room temperature
1/2 tsp vanilla extract
1/4 cup all-purpose flour
---
---
Instructions:
---
1Preheat oven to 350F. Grease a 9×5 loaf pan and set aside. I use the nonstick cooking spray with flour in it.
---
2Combine bananas and sugar (both brown sugar and the granulated sugar) in a large mixing bowl and beat until combined. Beat in pumpkin, egg, butter, and vanilla until well combined.
---
3Combine the dry ingredients in a small bowl and stir into the wet ingredients until just combined.
---
4Pour half of the batter into the prepared loaf pan. Evenly spread the batter to the edges of the pan. Set aside.
---
Cheesecake Filling:
---
1Beat the cream cheese and sugar together until light and fluffy. Beat in the egg and vanilla until combined. Beat in the flour and continue beating until no lumps remain.
---
2Spread the cheesecake filling carefully over the contents in the loaf pan making sure it's as even as possible.
---
3Spread the remaining half of the pumpkin-banana mixture over the top of the cheesecake filling. Make sure to smooth the top and make it nice and even.
---
4Bake for 55-65 minutes or until an inserted toothpick comes out clean.
---
5Let cool in pan for 10 to 15 minutes before removing to a wire rack to cool.
---