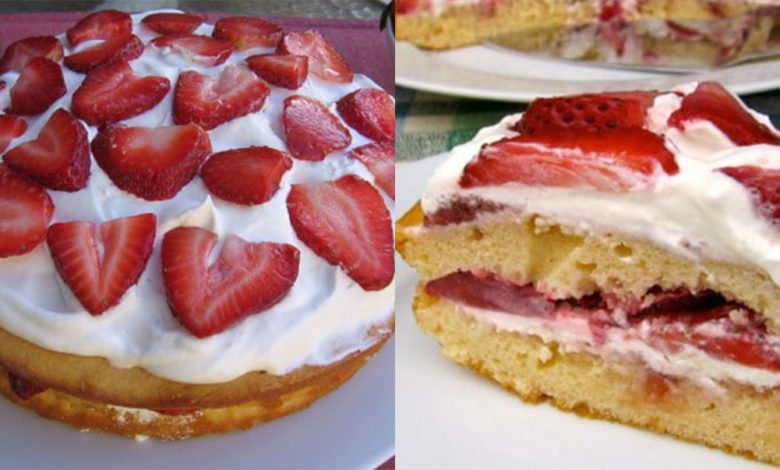 Ingredients:
---
9 ounces white or vanilla cake mix (1/2 of an 18-ounce package)
1 egg white
1/2 cup water
3 tablespoons vegetable oil
1/2 teaspoon vanilla
3 ounces plain non-fat yogurt (1/2 of a 6-ounce container)
1/4 cup strawberry all-fruit preserves melted
1-1/2 cups whipped cream (3/4 cup heavy cream whipped with 1 tablespoon confectioner's sugar to make 1-1/2 cups or natural whipped topping such as Truwhip)
1 pint strawberries, washed, hulled and sliced
---
---
Instructions:
---
1Position an oven rack in the center of the oven and preheat the oven to 350F degrees. Coat an 8-inch round baking pan with cooking spray, then dust it with flour.
---
2In a large bowl beat 9 ounces of cake mix (about 1/2 an 18-oz. package), the egg white, water, oil, vanilla and 3 ounces yogurt with an electric mixer until well blended, 2 to 3 minutes.
---
3Pour the cake batter into the prepared pan and bake until a wooden toothpick inserted in the center comes out clean, 25 to 35 minutes.
---
4Remove from the oven and cool on a wire rack for 10 minutes. Carefully remove the cake from the pan and place it on the rack to cool completely.
---
5Split the cooled cake horizontally into 2 layers. (I use a thin serrated bread knife.)
---
6Place the bottom layer cut side up on a cake plate. Spread 1/2 the preserves over the bottom layer. Cover with half the whipped cream or whipped topping and half the strawberries.
---
7Top with the remaining layer, cut side down. Coat with the remaining preserves and whipped topping.
---
8Arrange the remaining strawberries over the top.
---