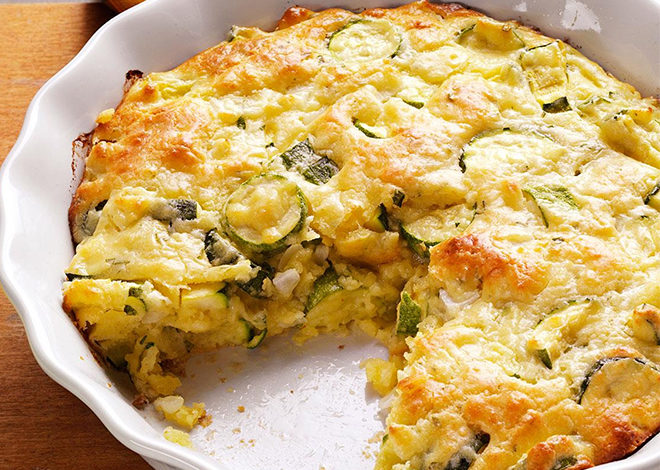 Ingredients:
---
3 eggs
1 cup grated Parmesan cheese
1/2 cup canola oil
1 tablespoon minced fresh parsley
1 garlic clove, minced
1/4 teaspoon salt
1/8 teaspoon pepper
3 cups sliced zucchini
1 cup biscuit/baking mix
1 small onion, chopped
---
---
Instructions:
---
1In a large bowl, whisk the first seven ingredients.
---
2Stir in the zucchini, baking mix and onion.
---
3Pour into a greased 9-in. deep-dish pie plate.
---
4Bake at 350° for 25-35 minutes or until lightly browned.
---
Tips:
---
1If you don't have a deep dish pie plate, feel free to use a small baking dish (8-in. square) or a souffle dish (1-1/2 to 2 quarts). Reduce oven time as needed, baking until lightly browned and eggs have reached an internal temperature of 160 degrees.
---
2For an easy swap-a-roo, use basil or dill in place of the parsley. Dill packs a punch, so you need only 1 teaspoon.
---