Recipes
😋Hostess With The Mostess Chocolate Snack Cake👀
Ingredients:
---
For Cake:
---
¾ cup natural unsweetened cocoa
2/3 cup hot water
1 cup buttermilk
1 ¾ cups all-purpose flour
1 ½ teaspoon baking soda
½ teaspoon kosher salt
¾ cup unsalted butter, room temperature
1 cup granulated sugar
½ cup light brown sugar, firmly packed
3 large eggs
2 teaspoons vanilla
For Cream Filling:
---
2 cups confectioners' sugar
6 Tbsp unsalted butter, room temperature
7 oz jar marshmallow creme
1 tsp vanilla
4 Tbsp heavy cream
For Ganache:
---
3 tbsp unsalted butter, softened
10 oz bittersweet chocolate, finely chopped
1 Tbsp light corn syrup
1/3 cup heavy cream
For Vanilla Icing:
---
1 cup confectioner's sugar
1/2 tsp vanilla
1 Tbsp milk
You'll Also Need:
---
9 X 13 baking dish, covered preferred
12 X 18 rimmed baking sheet
Unrimmed cookie sheet larger than 9 X 13
Offset spatula
Piping bag and Wilton #3 tip
metal ruler (helpful when cutting)
mini offset spatula (very helpful when lifting cake squares)
---
---
Instructions:
---
1Make the CAKE Preheat oven to 350 degrees Fahrenheit. Grease the bottom and sides of a 12 X 18 inch sheet pan and line the bottom with parchment paper allowing a few inches to overlap each end. Grease the top of the paper and dust the pan with cocoa.
---
2In a bowl, whisk cocoa powder into the hot water. Cool to lukewarm and whisk in the buttermilk. In another bowl, sift together the flour, baking soda and salt.
---
3In the bowl of a mixer fitted with the paddle attachment, beat the butter and sugars on medium speed until combined. Add eggs one at a time, beating well after each addition. Add vanilla along with the final egg. Reduce speed to low and add dry ingredients in three additions alternating with the buttermilk mixture in 2 additions. Beat until combined.
---
4Pour batter into prepared pan. Bake for about 15 minutes until a toothpick inserted in the center comes out clean. Let cool in the pan. Cut a straight line down the center of the cake so you have two sheets roughly 9 X 12 inches. When cool gently lift cake out of sheet pan holding the parchment paper on either end. Place on counter and with kitchen scissors, cut down the center to separate the two pieces of cake while still keeping them on the parchment paper. This will help in transferring.
---
5Transfer one 9 X 12 cake layer section to a 9 X 13 baking dish with the help of a rimless cookie sheet. Place one of the cake layers, parchment paper side down, on the cookie sheet and place the baking dish on top. Holding the cookie sheet against the baking dish, carefully flip it over and the cake layer will fall into place. Remove the parchment paper.
---
6Make the CRÈME FILLING In the bowl of a mixer, sift the sugar over the butter. Using the paddle attachment, beat on medium speed until lightened. Add marshmallow crème, vanilla and heavy cream and beat until fluffy.
---
7Pipe thick lines of the marshmallow cream filling on top of the cake and then spread evenly with an offset spatula to avoid getting too many cake crumbs mixed in the filling.
---
8To transfer the second layer, you can't flip the baking dish this time, so place the cake layer on the rimless cookie sheet and carefully transfer using the cookie sheet for support and your hands for guidance. Get it right the first time because you really can't readjust it at this point. Remove the parchment paper on the top layer.
---
9Make the GANACHE In a heatproof bowl set over, but not touching barely simmering water in a saucepan, melt the butter and chocolate with the corn syrup and cream, stirring constantly with a wire whisk until smooth. Let cool slightly. Pour prepared chocolate ganache on top of the cake, spread evenly and allow to set. When almost set and still slightly shiny, cut the cake into 24 even cake squares using a sharp unserrated knife. Run the knife under hot water in between each cut for smooth edges.
---
10Make the VANILLA ICING In a small bowl, stir together the confectioners' sugar, vanilla and milk until smooth. You can add a little more sugar or milk to make the consistency thicker or thinner.
---
11Finally, pipe vanilla icing swirls across each row of squares using a decorating bag fitted with a #3 Wilton tip. Serve squares using a small spatula and enjoy!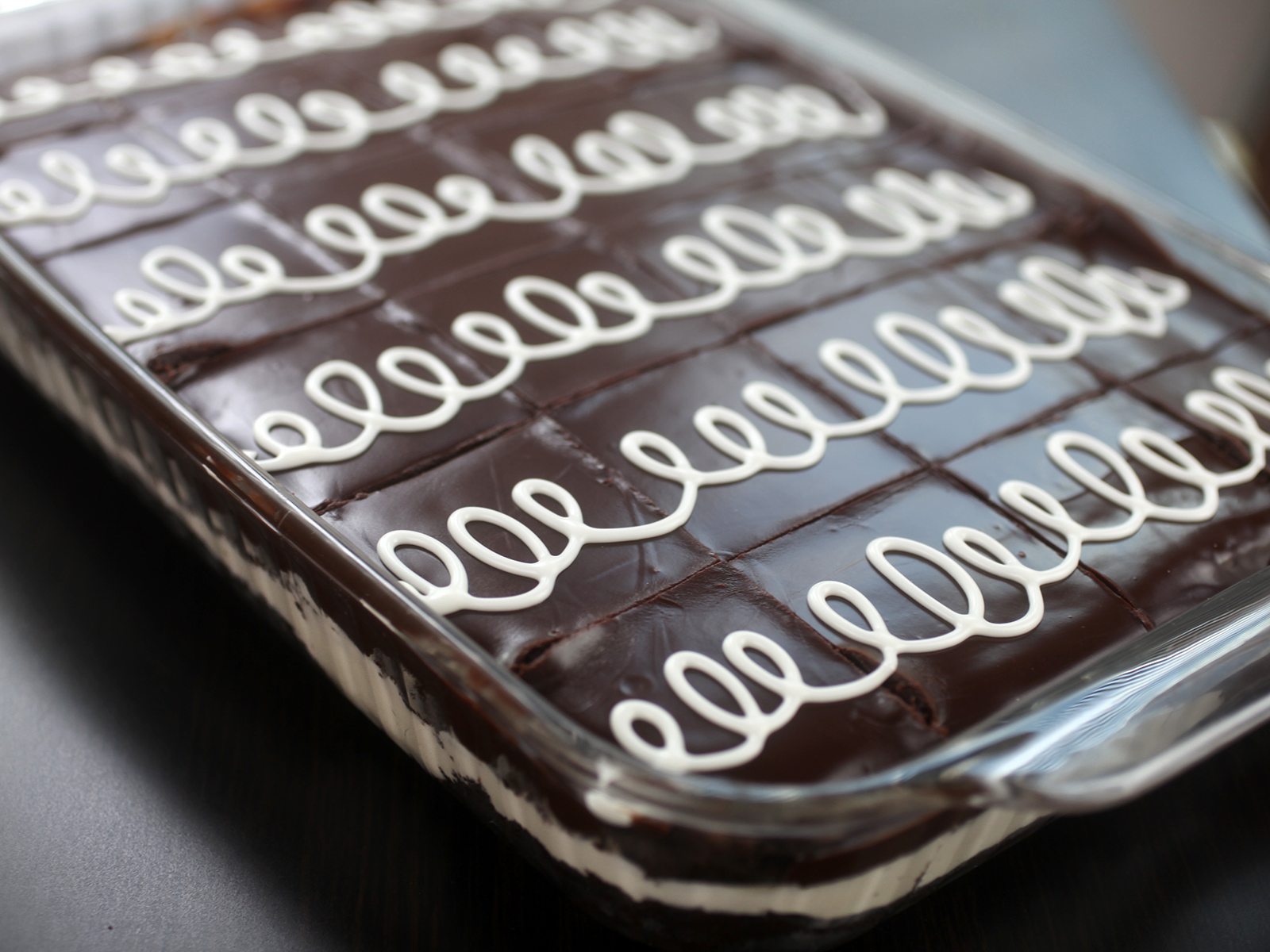 ---