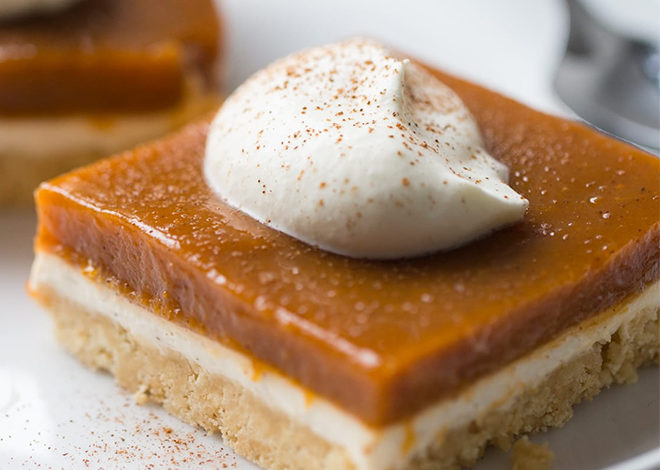 Ingredients:
---
Bottom Layer:
---
36 whole Golden Oreo Cookies 1-14.3 oz. package
6 tablespoons butter melted
Middle Layer:
---
8 ounces cream cheese softened
1/4 cup granulated sugar
1 teaspoon vanilla extract
1/2 teaspoon cinnamon
1/4 teaspoon nutmeg
1/2 cup heavy cream
Top Layer:
---
6.8 oz instant butterscotch pudding two 3.4 oz boxes
2 1/2 cups cold milk
1/2 cup pumpkin
1 teaspoon cinnamon
1/2 teaspoon nutmeg
Whipped Cream:
---
1 1/2 cups heavy cream
1 teaspoon vanilla
1/3 cup powdered sugar
---
---
Instructions:
---
1Spray a 9×13 pan with nonstick cooking spray and set aside.
---
2For the bottom layer: grind golden Oreos into crumbs using a food processor or blender. Pour into a bowl and stir with melted butter until moist. Pour into prepared pan and press evenly across the bottom. Refrigerate.
---
3For the middle layer: stir cream cheese together with sugar, vanilla, and spices until smooth. Add in heavy cream and stir until thick and smooth. Spread overtop the bottom layer and refrigerate.
---
4For the top layer: whisk all ingredients together until thick and smooth. Pour it over the cream cheese layer and smooth the top. Refrigerate at least an hour.
---
5For the whipped cream: whip heavy cream with vanilla and powdered sugar until soft peaks form.
---
6To serve, cut into squares, top with whipping cream and sprinkle with cinnamon.
---